LEARN TO ACHIEVE OVERTONE AND
DISTORTION

WITH ASTOUNDING EASE.
CUTTING-EDGE INSTRUCTION FOR
A VAST SPECTRUM OF VOCAL STYLES.
RECEIVE SHORTCUTS & BREAKTHROUGHS
THAT WILL LEVEL YOU UP RAPIDLY.
UNLOCK THE MAP TO MASTERING
EXTREME VOCALS AT AN ACCELERATED PACE.
EXPAND YOUR ARSENAL, REFINE YOUR
TECHNIQUES, AND

ACHIEVE YOUR GOALS.
THIS INNOVATIVE APPROACH
WILL

GUIDE YOU

TO SUCCESS!
Master any extreme vocal technique
with this new game-changing approach!
My #1 exercise for effortless distortion
and overtone basics is available now!
Personal feedback for ultimate refinement.
Recordings included, d

iscounts available.
UNIFIED EXTREME VOCAL ACADEMY
I. FREE COURSE & COMMUNITY FORUMS
---
An unlimited free trial of course material, and community networking spaces. COMING SOON! Volume 1 of the Unified Extreme Vocal Course is an entire course in itself: Overtone & Distortion Fundamentals. It will be released for free, teaching all foundations & basic distortion exercises. This 17-part publication includes 3 full lessons + a review, extensive articles, and bonuses – offering immense $$$ value for free, no strings attached! The purpose is to bring a new level of support to the extreme vocal community, and allow new students to prove to themselves that this method works before committing to the program. Release date TBA.
Right now you can view Lesson #1 on Effortless Distortion & Overtone Basics.
Lesson #2 and the remaining content is in production. You can access the full versions of these lessons (which include advanced material) instantly by registering for the course.
-----------------------------------------------
Join our 100% free networking spaces!
* While these spaces have been created for the time being, advertising their existence is less of a priorty than course production. As such, their popularity is set to increase upon the release of game-changing free content * -----------------------------------------------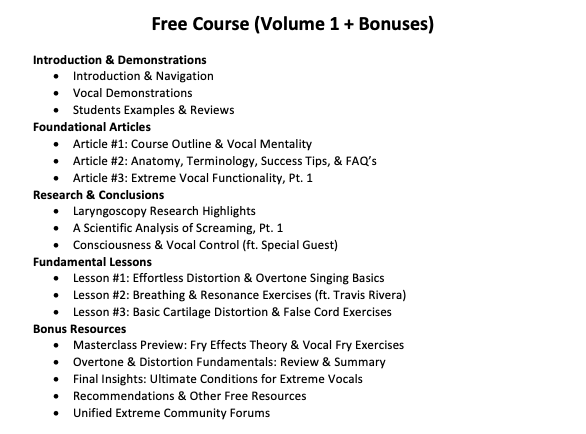 ---
II. UNIFIED EXTREME VOCAL COURSE
---
Your comprehensive guide to master any extreme vocal technique! The Unified Extreme Vocal Course curriculum has extended to its full caliber. It is still in production – but when you register (at a $200 discount), you get instant access to every lesson that has broadcasted so far, and receive all updates as they come (for free) + unlimited streaming for life.
The complete package includes over 18 hours of lesson content (edited down concisely to 40% duration), over 30 mastery tutorials, warm-up audios, detailed articles, and research footage, with "review & summary" videos throughout. An amazing deal for the value offered! See this document for the most up-to-date developments, and the "CURRENT PROGRESS" section for content release updates.
----------------------------------------------- This jam-packed resource provides cutting-edge education, tools, and instruction for extreme vocal mastery across the spectrum. Designed to be universally applicable, vocalists of all interests and skill levels will benefit. Backed by evidence-based research, everything from core foundations to unique solutions (for advanced vocal styles) are being presented at a depth and accuracy unparalleled by any other publications to date. This new method has been called a revolutionary approach to overtone & distortion – and you'll see why through personal experience.

-----------------------------------------------

Full Course Package (Outline)
---
III. MASTERY GUIDANCE & PREMIUM LESSONS
---
Advanced instruction and personal feedback for your unique vocal goals.
-----------------------------------------------
Group Classes
A collective lesson system, designed for maximum value and affordability.
* Exclusive to those who have registered for the course *
This is a low-cost monthly subscription-based service that guarantees 1:1 feedback, and focuses on helping students refine their techniques, or resolve questions about their process. Learning from others also stimulates growth, so this collective process will be very beneficial to all involved. Over time, a lesson library will build up, offering unique problem-solving solutions. Any need for lecture or fundamental information will reference the Unified Extreme Vocal Course (which is a prerequisite). Visit the Mastery Guidance page for more information. -----------------------------------------------

Video Feedback

A low-cost alternative to private lesson feedback.

* Exclusive to students who have registered for the course or taken at least 1 private lesson *

Receive a 10 minute video response to your questions - focused on your progress, troubleshooting insights (to overcome any barriers you are experiencing), and the most important exercises or coordinations that would solve your issues. Visit the Video Feedback page for registration and more information. -----------------------------------------------

Private Lessons

1:1 assistance from Brandon Kennedy, for ultimate technique refinement.

Receive personal feedback and highly advanced guidance on the refinement of your technique. Valuable recordings are included with every lesson. Visit the Lessons page for booking and more information. This service is available to anyone, although taking the course to establish fundamentals beforehand is recommended. This way, you receive all necessary information and exercises at the lowest hourly rate, and get the best value for your investment. Once you have absorbed the material, you can schedule lessons to help process and refine as needed. No matter where you're at vocally, there are fundamental principles that are unique to this method that must be discussed in order to develop mastery. Therefore, the same content covered in the course would be covered in private lessons – a vocalist's proficiency may only help accelerate the process.

1:1 Lessons

are naturally the most expensive service per hour – but are extremely valuable, effective, and thorough.

Group Lessons

(2-3 students) are also an option for those seeking a cheaper hourly rate. It is recommended to group with others of similar skill levels and interests. -----------------------------------------------

More information regarding Mastery Guidance Services will be shared over time as the Unified Extreme Vocal Academy evolves and expands.
---
CURRENT PROGRESS
---
The Unified Extreme Vocal Course is well underway. There is already enough content published for you to develop an optimal vocal technique. We have covered fundamentals, advanced exercises, and how to turn these tools into generic screaming techniques, singing with distortion, and other common goals. The secrets to extreme vocal mastery have been revealed, and the program keeps expanding. 14 hours deep, edits in progress, and much more to come!
Check out this update email (sent in March 2021) for more progress information.
Here's some details on available course content:

Lesson #1: Effortless Distortion & Overtone Basics

>> 1h45mins <<
The Kennedy Method: Summary
Pure Nasality (#1 Exercise for Effortless Distortion)
Straw Warm-Ups, Lip Trills, & Backpressure
Hypernasality vs. Hyponasality
Nasal-Distortion Filter
"The Sweet Spot"
Overtone Singing Basics
Resonance Exercises (Resonant Speech)
Synergy with Melissa Cross (Zen of Screaming)
Lesson #2: Breathing, Resonance, Distortion Exercises, & Advanced Insights
>> 2h45mins edited down to 1h30mins <<
Anatomy
Diaphragm Physics
Breathing Fundamentals
Compression Mechanics
Raising Your Voice with Ease
Resonance & Rounded Tone
Posterior/Glottal Breath
Cartilage Distortion
Basic Cartilage Fry
Old "Sigh" Approach
Troubleshooting Activation
Hyponasal Voice
Gritty Voice
Relaxed Compression (introduction)
Distorted Throat Singing (formula)
Core Technique "Trifecta"
Singing with Distortion (simple trick)
Masterclass #1: Advanced Distortion Exercises & Fry Effects Theory
>> 3h54mins <<
Review
Relaxed Compression
Distorted Throat Singing
Fry Effects Theory
Vocal Fry
Inhale Fry
The Rocker Face
Subtle Cartilage Fry – Pt. 1
Extreme Cartilage Fry – Pt. 1
Full Voice Fry Effect – Pt. 1
What are the "secrets to extreme vocal mastery"?
Exercise combinations (ex. Vocal Fry & Cartilage Fry)
Modulating to full screaming techniques
Masterclass #2: Khoomei Form, Throat-Centric Control, & Sequences
>> 4h24mins <<
Review

Process Phases

Practice Notes

Clean Shout
Subtle Cartilage Fry – Pt. 2
Throat-Centric Cartilage Control
Vowel Modifications
Full Voice Fry Effect – Pt. 2
Khoomei Form (False Cord Isolation)
Extreme Cartilage Fry – Pt. 2
Special Guest + Bonus Resource
Sequences (7 Steps to Vocal Finesse)
Bonus Lesson #1: Ultimate Conditions for Extreme Vocals
>> 1h45mins edited down to 1h20mins <<
Coordination I: Palate Muscles
Coordination II: Throat Muscles
Coordination III: Unified Mechanism
---
EVOLUTION
---
Unified Extreme is still evolving. The current offer is a partial pre-order that serves as a DIY crowdfunding campaign. All funds support course development and content creation. The goal is to raise enough to keep afloat during production, while returning value to supporters in a multitude of ways. Patrons immediately receive a massive discount and 14 hours of cutting-edge lesson content. Additional material is in the works and being added over time. Everyone's contribution makes a big difference for the course, and the speed at which it can be completed. Thanks so much for your support!
---
$200 DISCOUNT
---
For a limited time, you can register for $200 off. This is because this massive course is still in production. 14 hours of content has released, with edits and much more on the way. Receive instant access to every lesson that has broadcasted, all updates (for free) as they come, and unlimited streaming for life. An amazing deal for the value offered! You might ask... wasn't there a huge discount like this before? Yes - but that was before the course more than doubled in size. Everyone who registered previously got an even larger discount than expected! With registration you also receive access to a Private Facebook Group, exclusive to course members. Free community spaces also serve as networking hubs, but this will be your place to keep up with new developments, connect with others, discuss course material, and receive feedback.
---
---
UNIFIED EXTREME COMMUNITY FORUM
The vision of Unified Extreme
goes beyond transformative voicework.
There is power in unity, and everyone
benefits from a supportive community.
​
Our forum is open to all artists.
Promote yourself and explore others.
Share your services. Fuel your passions.
Connect, collaborate, and grow.
Support and be supported.
Lift others as you rise.
We all deserve to live our dreams.
Together, we can thrive.
As a bonus, visit the "Health & Transformation" forum.
Discover free holistic content to help you on your path.
It is a place for seekers to learn, share, and evolve.
Find resources to become the best version of yourself.
This is just the beginning for Unified Extreme.
Our MASSIVE content release sequence is in progress.
Any support or help spreading the word is much appreciated.
I hope this creation serves you in more ways than one!