LEARN TO ACHIEVE OVERTONE AND
DISTORTION

WITH ASTOUNDING EASE.
CUTTING-EDGE INSTRUCTION FOR
A VAST SPECTRUM OF VOCAL STYLES.
RECEIVE SHORTCUTS & BREAKTHROUGHS
THAT WILL LEVEL YOU UP RAPIDLY.
UNLOCK THE MAP TO MASTERING
EXTREME VOCALS AT AN ACCELERATED PACE.
EXPAND YOUR ARSENAL, REFINE YOUR
TECHNIQUES, AND

ACHIEVE YOUR GOALS.
THIS INNOVATIVE APPROACH
WILL

GUIDE YOU

TO SUCCESS!
UNIFIED EXTREME VOCAL COURSE
ENTER TO WIN FREE ACCESS
---
Giveaway: FREE ACCESS to the complete
Unified Extreme Vocal Course ($497+ value)! Click here to enter . A winner will be selected at random upon the release of the free fundamentals course. If you register and then win, you'll receive a refund. Best of luck!
---
FREE COURSE
---
COMING SOON!
Volume 1 of the Unified Extreme Vocal Course is an entire course in itself: Overtone & Distortion Fundamentals. An unlimited free trial will be released, teaching all core principles & basic distortion exercises. This 17-part publication includes 3 full lessons + a review, extensive articles, and bonuses – offering immense $$$ value for free, no strings attached! The purpose is to bring a new level of support to the extreme vocal community, and allow new students to prove to themselves that this method works before committing to the program. Release date TBA.
Right now you can view a rough draft version of Lesson #1: Effortless Distortion & Overtone Basics. Lesson #2 and the remaining content is in production. You can access the full versions of these lessons (which include advanced material) instantly by registering for the course.
-----------------------------------------------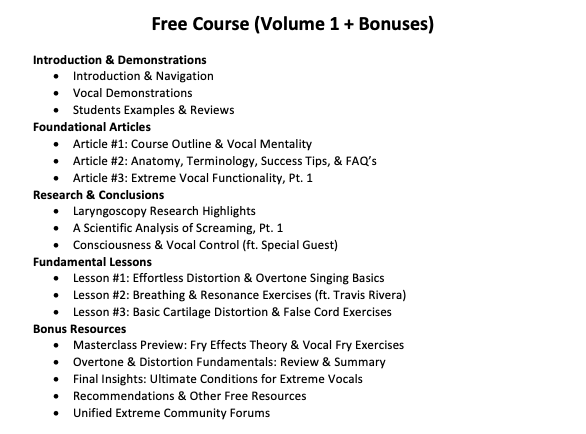 ---
ADVANCED EXERCISES
---
The Unified Extreme Vocal Course is well underway. There is already enough content published for you to develop an optimal vocal technique. We have covered fundamentals, advanced exercises, and how to turn these tools into generic screaming techniques, singing with distortion, and other common goals. The secrets to extreme vocal mastery have been revealed, and the program keeps expanding. 14 hours deep, edits in progress, and much more to come!
Lesson #1: Effortless Distortion & Overtone Basics
>> 1h45mins <<
The Kennedy Method: Summary

Pure Nasality (#1 Exercise for Effortless Distortion)

Straw Warm-Ups, Lip Trills, & Backpressure

Hypernasality vs. Hyponasality

Nasal-Distortion Filter

"The Sweet Spot"

Overtone Singing Basics

Resonance Exercises (Resonant Speech)

Synergy with Melissa Cross (Zen of Screaming)
Lesson #2: Breathing, Resonance, Basic Distortion Exercises (+ Advanced Insights)
>> 2h45mins edited down to 1h30mins <<
Anatomy

Diaphragm Physics

Breathing Fundamentals

Compression Mechanics

Raising Your Voice with Ease

Resonance & Rounded Tone

Posterior/Glottal Breath

Cartilage Distortion

Basic Cartilage Fry

Old "Sigh" Approach

Troubleshooting Activation

Hyponasal Voice

Gritty Voice

Relaxed Compression (introduction)

Distorted Throat Singing (formula)

Core Technique "Trifecta"

Singing with Distortion (simple trick)
Masterclass #1: Advanced Distortion Exercises & Fry Effects Theory
>> 3h54mins <<
Review

Relaxed Compression

Distorted Throat Singing

Fry Effects Theory

Vocal Fry

Inhale Fry

The Rocker Face

Subtle Cartilage Fry – Pt. 1

Extreme Cartilage Fry – Pt. 1

Full Voice Fry Effect – Pt. 1

What are the "secrets to extreme vocal mastery"?

Exercise combinations (ex. Vocal Fry & Cartilage Fry)

Modulating to full screaming techniques
Masterclass #2: Vocal Forms & Technique Development
>> 4h24mins <<
Review

Process Phases

Practice Notes

Clean Shout

Subtle Cartilage Fry – Pt. 2

Throat-Centric Cartilage Control

Vowel Modifications Hack

Full Voice Fry Effect – Pt. 2

Khoomei Form (False Cord Isolation)

Extreme Cartilage Fry – Pt. 2

Special Guest + Bonus Resource

Sequences (7 Steps to Vocal Finesse)
Bonus Lesson #1: Ultimate Conditions for Extreme Vocals
>> 1h45mins edited down to 1h20mins <<
Coordination I: Palate Muscles
Coordination II: Throat Muscles
Coordination III: Unified Mechanism
Laryngeal Expansion
Relaxed Compression
Soft Palate Control
Power Fry Examples
Khoomei & False Cord
Extreme Cartilage Fry
Low Scream Approach
---
---
MORE FREE CONTENT COMING SOON...
SUBSCRIBE & STAY TUNED!